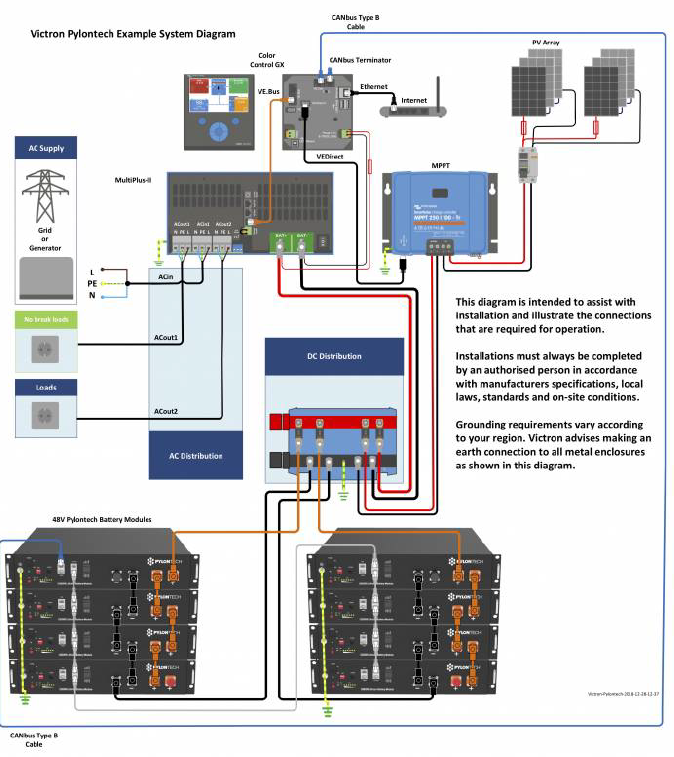 3KVA Hybrid system
6 x 360Wp PV panels
1 x Victron 3KVA MultiplusII
1 x Victron 150/60 MPPT
2 x PylonTech 2.4kWH lithium Batteries
1 x DC Combiner & Protection Box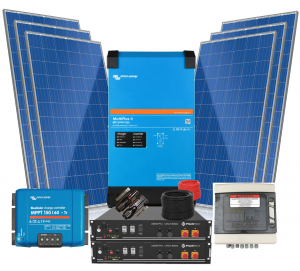 Victron & Pylontech US2000, US3000 and Phantom-S
The combination of Victron products with Pylontech lithium batteries has been tested and certified by the Victron and Pylontech R&D departments. General information about the battery is found in Pylontech's documentation.
The Pylontech includes a Battery Management System (BMS) with each battery module. This interfaces with the Victron GX device and can support multiple battery modules connected in parallel.
You can connect multiple battery modules together to form a single large battery by connecting the RJ-45 cable supplied by Pylontech using the link ports on the battery. This is shown in more detail in the example wiring diagram and Pylontech manual.
The batteries will automatically detect and link to each other, no adjustment of dip switches or software changes are necessary on the batteries. The battery with the empty link port 0 is the master battery. You must use the VE.Can to CAN-bus BMS type B Cable, part number ASS030720018, you cannot use the cable supplied by Pylontech.
5KVA Hybrid system
12 x 360Wp PV panels
1 x Victron 5KVA MultiplusII
1 x Victron 150/100 MPPT
4 x PylonTech 2.4kWH lithium Batteries
1 x DC Combiner & Protection Box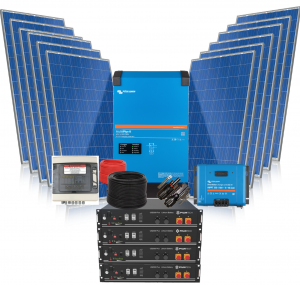 500Wh UPS back-up system
1 x Victron MultiPlus 500VA inverter/charger

1 x Blue Nova Lithium 44Ah battery